Across the generations there have been countless good coaches in both pro and collegiate athletics but only a choice few are worthy of being labeled as great. That said, we've compiled a list of the elite few that have separated themselves from the pack – a list of the greatest coaches from sports history.
1. Pat Summitt, Women's College Basketball
You probably didn't expect to see a woman on this list but in looking at Pat Summitt's track record, there is no denying her spot as #1.
In 36 years as the head basketball coach for the Tennessee Lady Vols she has 1,071 wins and counting (making her the all-time winningest coach in the history of NCAA basketball, for either a men's or women's team, in any division), she has never had a losing season, she's led the Lady Vols to 8 national championships and 16 SEC titles, she has been named the NCAA Coach of the Year seven times and the SEC Coach of the Year eight times and last, but certainly not least, she was named the Naismith Basketball Coach of the Century in April 2000. Impressive!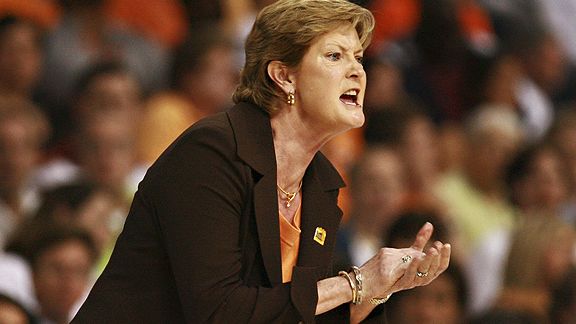 IMG SOURCE: http://a.espncdn.com/photo/2011/0111/ncb_g_patsts_576.jpg
2. Coach K, Men's College Basketball
When your first name is widely replaced by the word Coach, you're a solid contender for the "Greatest Coaches" list. Mike Krzyzewski, more commonly known as Coach K, is a college basketball coach for Duke University – but he's not just any coach, with four NCAA Championships, 11 Final Fours and 903 career wins and counting, he is officially the winningest coach in the history of men's college basketball.
IMG SOURCE: http://www.massappealnews.com/wp-content/uploads/2011/03/Coach-K.jpg
3. Phil Jackson, NBA
Fittingly nicknamed the Zen Master for his always-calm demeanor and ability to wrangle his team under the most chaotic of circumstances, Phil Jackson is a most impressive NBA coach that is an absolute lock for the NBA Hall of Fame. Having led Michael Jordan and the Chicago Bulls to six NBA Championships in the 90s and Kobe Bryant (and Shaquille O'Neal) to five more in the 2000s, Jackson is as accomplished as they come and the creator of not one but two basketball dynasties.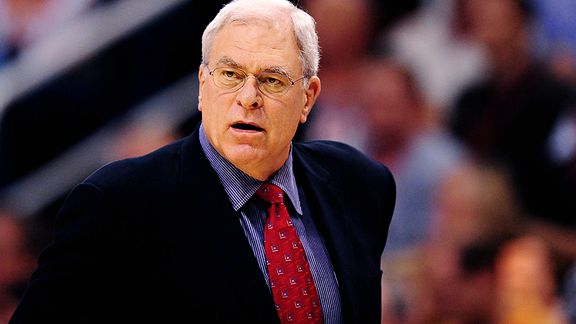 IMG SOURCE: http://a.espncdn.com/photo/2010/0328/la_u_pjackts_576.jpg
4. Vince Lombardi, NFL
Whether you're a fan of the NFL or not, the fact that Vince Lombardi was printed on a U.S. Postage stamp should speak to his reputation. Famed for being the NFL coach that led the Green Bay Packers to five league championships in seven years during the 60s, including the first ever NFL Championship, Lombardi is a staple in pro football lore and an endless well of motivational quotes about hard work and character, such as this:
"Leaders are made, they are not born. They are made by hard effort, which is the price which all of us must pay to achieve any goal that is worthwhile." – Vince Lombardi
5. Scotty Bowman, NHL
Having jumped around between a handful of teams across his career, Scotty Bowman is on the books as the greatest NHL hockey coach to have ever coached the game. Like many of his counterparts above, Bowman's stats can speak for themselves: His 1,244 wins in the regular season make him the winningest coach in NHL history – his 9 Stanley Cups are also a league record. Lastly, he set the record for most wins in a single season in 1996 with a whopping 62 victories (breaking the previous record of 60 games … a record that he himself set in the '76–77 season).
IMG SOURCE: http://www.thehockeynews.com/imgs/dynamique/photos/original/article_31507_2.jpg
6. Bear Bryant, College Football
If you know anything about college football, it's that the SEC is an elite conference with a rich history of greats – atop that list is coach Bear Bryant. As the head coach of the Alabama Crimson Tide, Bryant led his squad to an astonishing six national championships, 13 conference titles and 323 wins, a stat that retired him as the winningest coach in college football history (a record that was recently broken by Joe Paterno).
As a side note, the vandalism of a Bear Bryant statue by an Auburn fan is what led a crazed Alabama fan to poison the historical trees at Tumor's Corner on the campus of Auburn University. If we didn't put Bear on this list, quite honestly, we fear the retaliation of his loyal supporters.
IMG SOURCE: http://www.saturdaydownsouth.com/wp-content/uploads/2010/10/bear-bryant-alabama-quotes.jpg
7. Cus D'Amato, Boxing
While a boxing coach is technically referred to as a trainer, Cus D'Amato transcended any title and was simply a legendary mentor. Though he was the trainer for the Olympic middleweight gold medalist, Floyd Patterson, D'Amato's most impressive feat was harnessing a wild beast and crafting it into the youngest undisputed heavyweight boxing champion of the world, a fighter we know as Mike Tyson. After all, it must take a man of extreme strength of character to soften the edges of Mike Tyson and leave this kind of impression:
"People think I was born this way. They don't know what it took to get this way. The training, when you have to do things over and over again until you're sore. Deep in your mind you say, God, I don't want to do this no more, and then you push. I always used to think I was a coward because of the way I felt. Cus was there when I needed him…he was the one. Cus would always explain you should always do things to build your character and make you a better individual. He was different than anyone I'd ever met, because principle meant more than anything to him, more than money, more than health, more than his life. He would sacrifice anything for principle, for what he believed was right." – Mike Tyson
IMG SOURCE: http://thelasthonestman.files.wordpress.com/2010/02/tyson-and-cus-damato.jpg
8. John Wooden, Men's College Basketball
Ranking last but not least amongst our collegiate coaches is a former men's basketball coach with an impressive resume of wins, former players and more. John Wooden coached at UCLA for just 12 years; however, in that time he boasted a winning streak of 88 consecutive games and nudges out Pat Summitt with a record 10 NCAA titles (seven in a row). All of this, combined with the fact that Wooden turned out Hall of Fame players such as Kareem Abdul Jabbar and Bill Walton, it's no surprise that he was named the National Coach of the Year a total of six times.
IMG SOURCE: http://crowdfusion.myspacecdn.com/media/2011/02/15/john-wooden-600w.jpg
9. Casey Stengel, MLB
To end this list, it's appropriate that we end with a coach from America's National Pastime. Making his mark on the list as the MLB's greatest manager in history is Casey Stengel – "The Old Professor" to some. Because he coached MLB greats such as Mickey Mantle, Yogi Berra and Whitey Ford, Stengel was able to win seven championships (five in a row) and 10 pennants on his way to being elected into the Baseball Hall of Fame.
IMG SOURCE: http://2.bp.blogspot.com/_8pBtwxra6_g/S_IQrlHDHmI/AAAAAAAAKN8/WkBRPvFlHwQ/s400/Casey+Stengel+Mets+1962.jpg
We hope you've enjoyed this list of the greatest coaches in history. There many talented coaches in the world of sports but we trust that you agree that these ones are tops.